Capitalizing on Your Amazon Strategy is important. Amazon just announced its best first quarter ever, posting over $100 billion in revenue. As Amazon continues to grab a larger portion of the ever-growing eCommerce industry, it's leaving a trail of new winners and losers in its wake. Even well-established Amazon brands and merchants are often leaving money on the table. Here are a few things for marketing leaders like you to consider:
First off, stay engaged. If your team or agency has been taking a "set it and forget it" approach to your Amazon strategy, you're leaving money on the table. Amazon, like any other channel, requires constant testing and optimization.
Want more eyeballs on your products? Keep in mind that Amazon's doing its best Jerry Maguire impersonation these days: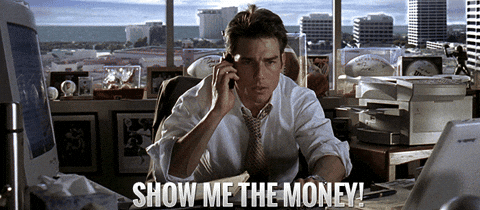 Amazon almost hit $7 billion in ad revenue last quarter. To put that figure in perspective, that's almost seven times Twitter's total revenue for their quarter. Find yourself an employee or agency that understands Amazon advertising and how to make the most of your budget there. If your brand is on Amazon but hasn't adapted a paid ad strategy, there's a good chance you're losing sales to competitors that are.
Speaking of competitors- are you taking time to analyze the competition? You should be. Savvy media buyers, PR pros, and SEOs (not to mention CMOs) are always analyzing the competition. What are they doing well? What are their weak spots? For example, if a competitor has a particular sku bogged down with bad reviews on Amazon, it might be a good time for you to launch a review generation campaign of your own to create separation, and then double down by running paid ads on Amazon targeting those searching for the product. Imagine your competitor's potential customers reviewing an item, only to see an ad for your item- with better reviews no less- on the same page.
Not selling on Amazon? No problem. But your eCommerce team needs to show a commitment to the customer experience that rivals Amazon's customer-first approach. That means figuring out fast, free, fulfillment for customers and an overly generous return policy. I know what you're thinking, but please, just bake shipping into the item cost. No one wants to see an itemized hit to their credit card for shipping after being trained for years that shipping should be "free."
One more note for those of you not selling on Amazon- you're missing the boat on a pretty lucrative growth channel. Consider selling on Amazon via FBM (fulfillment by merchant) to avoid giving Amazon more data on your supply chain than you have to, and then leveraging mechanisms like free extended warranties and contests as workarounds to capture customer information. Once you have that information, you can convert them to repeat customers on your website going forward, as long as you've already sorted out my prior point about your brand's customer experience.
Have other questions about Amazon, or eCommerce in general? Comment on this blog and we'll be in touch.